In this article we're reviewing the Hardy Wraith Fly Rod series. We'll dive into it deeply so you can determine whether or not it's the right rod for you. You'll see the pros, cons, and features that show how this rod compares to the competition. You'll also find out where is the best place to buy the Hardy Wraith Fly Rod.

This rod is a worthy successor to the Hardy Zenith. If you're after a lighter rod consider the Hardy Jet.
The Hardy Brand
The Hardy brand is from the United Kingdom with a factory in Alnwick, though this particular rod is made in Korea. Hardy is owned by the Pure Fishing Group and holds a royal warrant from HRH Prince of Wales.
Place in the Hardy Range
The Hardy Wraith Fly Rod is a mid-range rod within the Hardy family. The high-quality construction and the name make the rod land at the top end of the market. The Wraith is one of the best.
Rod Action
The Wraith is equipped with fast tip action. The speed gives the entire rod great accuracy but is hard for beginners. The action makes it better suited for fishermen who'd rate themselves intermediate to advanced level.
Hardy Wraith Fly Rod Technical Details
The rod is split into a total of four sections. It also comes with a cover made of cloth and a hard tube.
Body
The Hardy Wraith Fly Rod's body is constructed of Sintrex® 550 carbon fibre matrix. It's a stiffer product than the material of earlier models in the series. The carbon fibre is encased in a resin that is a reinforced matrix.
Fit and Finish
The finish and fit of the Wraith are what people have come to expect from the Hardy brand. It's great. In look the rod is not much different than the older Zenith from Hardy. The most notable difference is that there is a section that is in clear coat underneath the Wraith label. That section shows you exactly how the Wraith is constructed. A nifty feature.
You'll get the Reversed Half-Wells Grip when fishing. Many people have noted that they'd prefer a full-wells on the Wraith due to its speed. It's also equipped with the same wooden insert and double uplocking reel seat.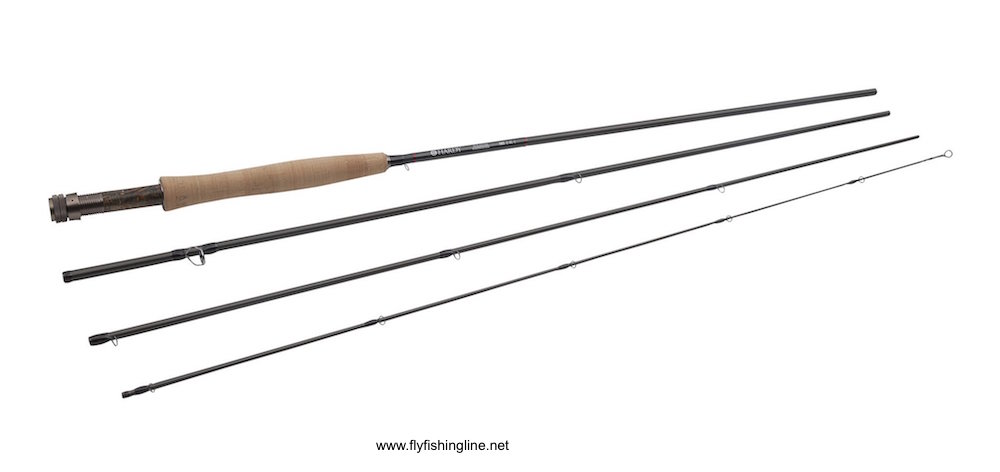 Handle
The handle that you'll get with this rod is the standard from the Hardy brand: a high-quality cork.
Weight
The rod is about 3 ounces in weight. The weight is about right for the Hardy brand, but it's not as light as some of their other rods such as the Helios 2. The rod does feel light as it is used.
Distance
The Wraith can cast a long way, extremely fast. While there may be other rods out there that are faster, there are almost none that are as accurate.
Accuracy
At close distances such as 30', the Hardy Wraith Fly Rod isn't that great. At such short distances, it doesn't load well. With a bit of time and effort, it can become workable and you can get used to it. You may want to use a heavier fly line to load the rod more if you're often casting over short distances.
As you get further away at 40', you'll see the rod jump into action. The brand's research and utilization of Sintrix come together to give you a rod that is not just quick but also incredibly accurate. It does even better at 60 feet away. The rod is still extremely accurate and is one of the easiest to present a fly at such a distance.
Flex & Feel
The rod is definitely known for its speed which borders on ultra-fast. It also has feel that is more akin to a streamer/bigger fly feel than one that is a presentation, delicate dry fly rod. It has a tip that is stiffer than quite a few people like.
Warranty
The Hardy Wraith Fly Rod has a lifetime warranty.
Sizes in the Series
The Wraith has five models in its series. There's Model # HROWRA907A which has a rod length of 9'. Model # HROWRA908A has the same rod length as well. These are both priced $849 on Hardy's website. Model # HROWRA967A is at 9.6' in length, and models # HROWRA107A and # HROWRA108A are 10' in length. All three of those models are priced $899.
| Model | Length (ft / m) | Rating | Sections |
| --- | --- | --- | --- |
| Wraith FWS 9′ #5 (HROWRA905F) | 9′ / 2.74 | #5 | 4 |
| Wraith FWS 9′ #6 (HROWRA906F) | 9′ / 2.74 | #6 | 4 |
| Wraith AWS 9′ #7 (HROWRA907A) | 9′ 2.74 | #7 | 4 |
| Wraith AWS 9′ #8 (HROWRA908A) | 9′ 2.74 | #8 | 4 |
| Wraith AWS 9'6 #7 (HROWRA967A) | 9′ 6 / 2.90 | #7 | 4 |
| Wraith AWS 10′ #7 (HROWRA107A) | 10′ / 3.05 | #7 | 4 |
| Wraith AWS 10′ #8 (HROWRA108A) | 10′ / 3.05 | #8 | 4 |
Pros
The rod cast is very accurate when its used for far distances.
It can cast extremely far without worry of whether or not it'll be accurate.
Cons
It borders on being ultra-fast which means unless you're an advanced user than it'll be too fast for you.
While it's great for far-off casting, it takes time to get used to for close distance.
The stigma about the production of the rods in Korea. They find that it's too pricey for a rod made in Korea.
The Bottom Line
The Hardy Wraith Fly Rod is slightly more expensive than many of the other fly rods that companies have available. Fishers who own the rod tend to rate it highly. The points that they state as impressive include its ability to reach long distances and its accuracy.
While the rod serves as a good replacement to Hardy's older models, it's also a competitor for other highly rated fly fishing rods such as the Winston B3-SX and the Sage Method. The Hardy Wraith Fly Rod is possibly the greatest ultra-fast fly rod on the market today.
The rod has fast action which makes will make it harder for beginners to get accurate casting. It'll be challenging for newbies to get used to the rod, but it is possible. It's a good rod to use if you want to grow, and it's a great rod for those on the intermediate and advanced levels.
The Sintrex is lightweight and the material allows for ease of use. The rod will put less strain on the body when you're out fishing over long days. Those who suffer from any arm, shoulder, or neck pains should take this rod into consideration.
Those fishers who are looking for a new fly fishing rod or are looking for more of a challenge, check out the Hardy Wraith Fly Rod. Be sure to look into other Hardy Wraith reviews to get a full look at what is the best option for you.